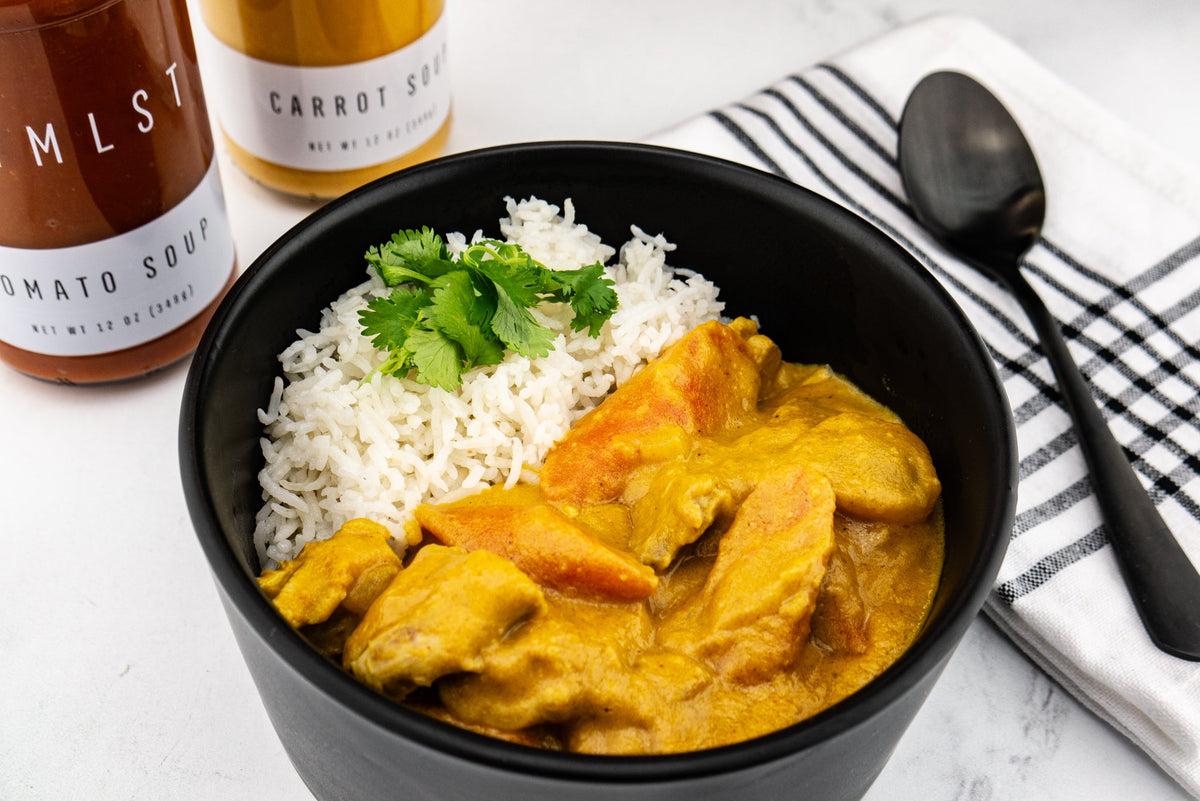 CHICKEN KORMA WITH ROOT VEGETABLES
INGREDIENTS:
1 15-ounce can of heavy coconut cream

1 jar of MNMLST Carrot Soup

1 Jar of MNMLST Tomato Soup

1/3 cup cashew powder or flour

1/2 cup coconut or almond yogurt

1/4 cup ghee or olive oil

1.5 pound chicken breasts or thighs, bite size pieces

2 cups of bite size root vegetables (carrots, potatoes, turnips or parsnips)

1 1/2 cups onions, chopped

1 tablespoon garlic, minced

1 tablespoon ginger, minced

1 1/4 teaspoon each of turmeric, curry powder and paprika

1/4 teaspoon of ground cardamom

2 teaspoon sea salt

Optional ¼ cup heavy cream to finish, if desired

4 cups cooked basmati rice

1/4 cup cilantro chopped, for garnish
INSTRUCTIONS:
In a 3 quart saucepan heat ghee or oil over medium high heat.

Add garlic, ginger, onions and saute for a few minutes,

Lower heat and add in curry powder, turmeric, paprika, cardamom and saute 1 minute.

Add in chicken and sear for a few minutes.

Add root vegetables and then add coconut milk, soups, cashew flour and salt  and bring to a  boil stirring frequently.

Simmer 20-30 minutes until vegetables and chicken are tender.

Add additional salt as needed. Finish with yogurt and or  heavy cream if desired.

Serve with rice.
MNMLST PRODUCTS USED IN THIS RECIPE