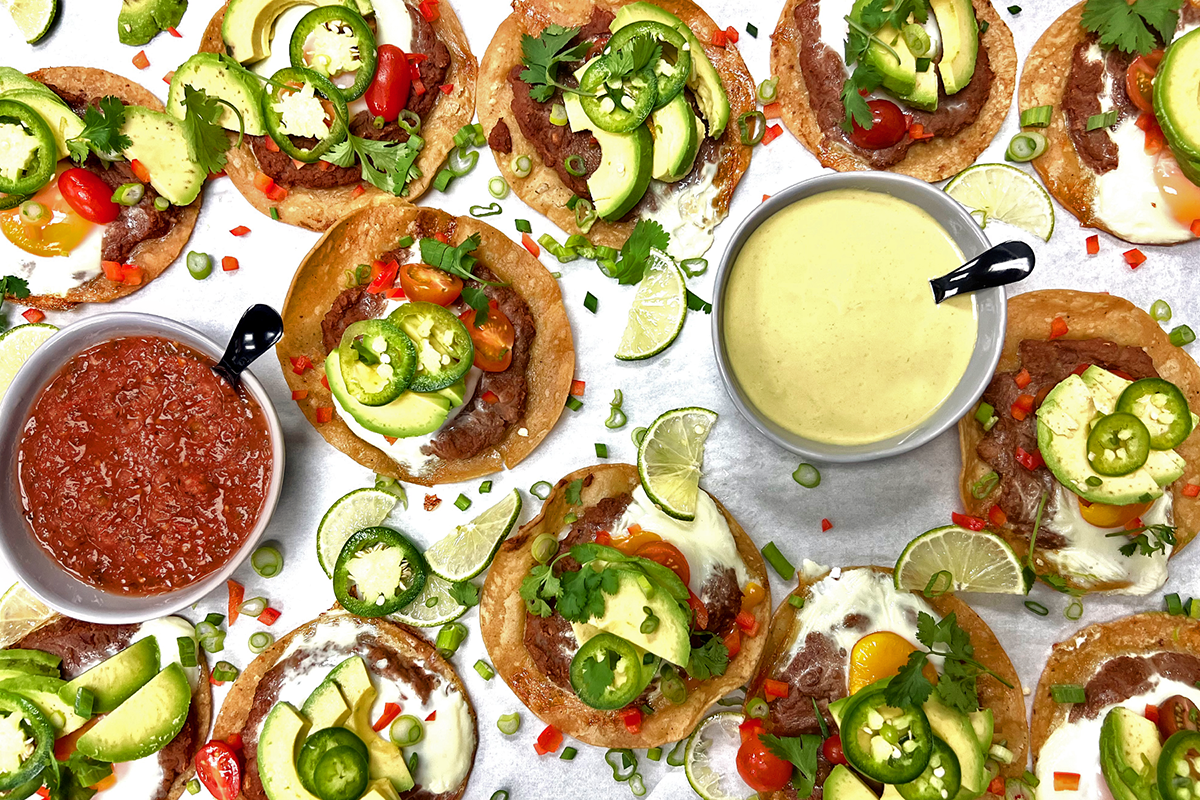 SHEET PAN HUEVOS RANCHEROS
INGREDIENTS:
15 small corn tortillas

3 tablespoons avocado oil

1 1/2 teaspoons ground cumin

1/2 teaspoon chili powder

Fine sea salt and freshly ground pepper

1 scallion, roughly chopped

1 jalapeño pepper, thinly sliced

1/2 cup packed fresh cilantro, plus more for topping

1 16-ounce can refried beans

12 large eggs

1 ripe avocado, sliced

Lime wedges, for serving

1 jar MNMLST Spicy Salsa

1 jar MNMLST Mild Salsa
INSTRUCTIONS:
Preheat the oven to 425 degrees F. Line a rimmed baking sheet with foil. Add the tortillas, drizzle with the avocado oil, and sprinkle with 1/2 teaspoon cumin, chili powder, 1/2 teaspoon salt, and a few grinds of pepper; toss until well coated. Spread on the baking sheet in a single layer and bake, stirring occasionally, until crisp, 20 to 30 minutes.

Warm the refried beans in the microwave or saucepan

Remove the tortillas from the oven. Top with about 1/2 cup of the refried beans. Crack the eggs on top, spacing them out; season with salt and pepper. Gently run a rubber spatula through any thick egg whites to break them up and help the eggs cook more evenly. Bake until the egg whites are opaque, 15 to 20 minutes.

Spoon over the MNMLST Spicy Salsa and the MNMLST Mild Salsa over each egg. Garnish with the avocado, jalapeño slices, green onions and cilantro; serve with lime wedges and more of both salsas.
MNMLST PRODUCTS USED IN THIS RECIPE