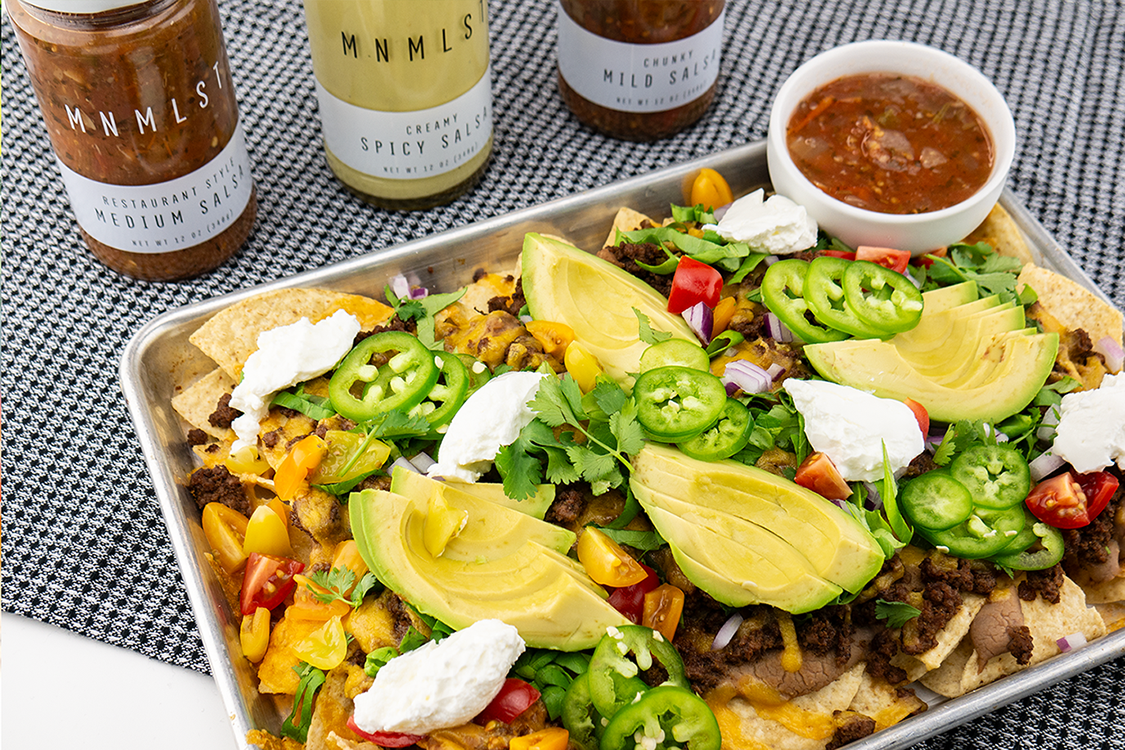 INGREDIENTS:
1 tablespoon avocado oil

1 pound ground beef, bison, turkey or chicken

2 cloves garlic, minced

1 1.25-ounce package taco seasoning

12 ounces tortilla chips, grain free preferred

1 15-ounce can refried beans

1 cup shredded cheddar cheese or shredded vegan cheese

1/4 cup multi-colored cherry tomatoes

1/8 cup red onion, diced

1 avocado, sliced

1 jalapeño, thinly sliced

2 tablespoons sour cream or dairy-free version

2 tablespoons fresh cilantro, chopped

1 jar MNMLST Spicy Salsa

1 jar MNMLST Medium Salsa

1 jar MNMLST Mild Salsa
INSTRUCTIONS:
Preheat the oven to 400°F. Lightly oil a baking sheet or coat with nonstick spray.

Heat oil in a large skillet over medium high heat. Add ground beef (or meat of choice) and garlic, and cook until beef has browned, about 3-5 minutes, making sure to crumble the meat as it cooks; stir in taco seasoning. Drain excess fat.

Place tortilla chips in a single layer onto the prepared baking sheet. Top with ground beef mixture, refried beans, and cheeses.

Place into the oven and bake until heated through and the cheeses have melted, about 5-6 minutes.

Serve immediately, topped with tomato, onion, jalapeño, sour cream, avocado and cilantro.

Serve with MNMLST Salsa and sour cream of choice!
MNMLST PRODUCTS USED IN THIS RECIPE