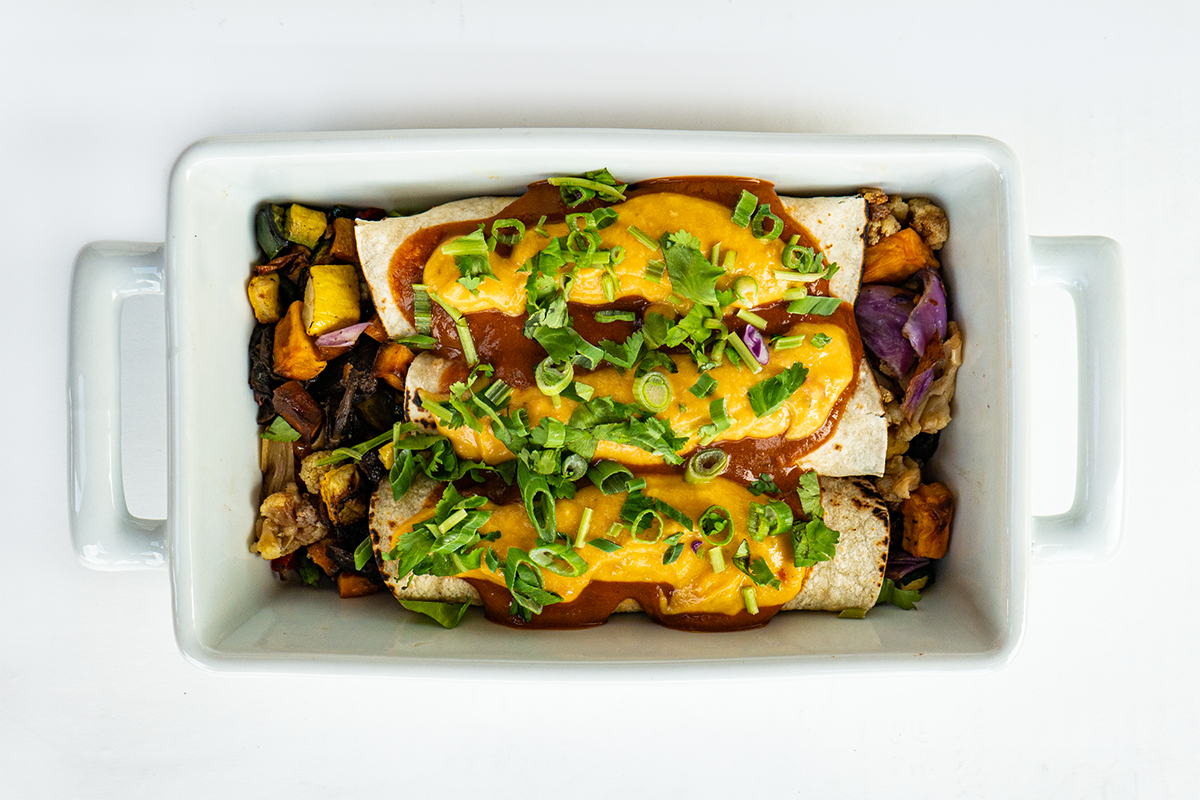 INGREDIENTS:
2 tablespoons gluten-free all purpose flour

 2 teaspoons chili powder

 1/2 teaspoon ground cumin

 1/2 teaspoon salt

 1/4 teaspoon dried oregano

 1/4 teaspoon garlic powder

 1/4 teaspoon onion powder

 1 tablespoon olive oil

 3/4 cup chicken broth

 1 jar MNMLST Medium Salsa

2 cups of your favorite selection of roasted vegetables. I chose: sweet potato, red cabbage, zucchini (seeded), yellow squash (seeded), crimini mushrooms, cauliflower florets, and tri-colored bell baby peppers

4-6 corn tortillas 

1 container of your vegan queso
INSTRUCTIONS:
For the enchilada sauce: in a medium bowl, whisk together the flour, chili powder, cumin, salt, oregano, garlic powder, and onion powder. In a large saucepan over medium heat, heat the oil. Once hot, whisk in the flour mixture. Slowly whisk in the broth. Whisk in the salsa then bring to a boil. Cook until thickened, about 3-5 minutes. Remove from the heat.

Preheat oven to 425 degrees. Warm the enchilada sauce on stove top and dip the corn tortillas in the warm enchilada sauce.

Spoon heaping spoon of vegan queso in the middle of the corn tortilla in a straight line. 

Proceed with the roasted vegetables along the line of queso you spread

Roll the corn tortillas, seam down into a small casserole dish. 

Ladle the rest of the enchilada sauce over the top of the rolled enchiladas and then spoon the desired amount of vegan queso. 
MNMLST PRODUCTS USED IN THIS RECIPE